GEL Official Rate
13.12.2017→14.12.2017 Change
WELCOME TO ESCO NEW WEBSITE
From the beginning of 2017, the Electricity Market Operator presents the updated version of its official website.
We believe that the new version of website is very comprehensive technically as well as content-wise, in line with the best practices in this field. Simple and practical design, easy transfer through the links and updated information blocks are user-friendly and make the interesting news easily accessible.
The old database allows the interested persons to compare, see and analyze the trends. Significant novelty is the placement of operative information about current reporting period. Although in the form of forecast, it will still serve the interested parties to plan their activities. The new version of export-import and transit information blocks will be interesting for the users. The data placed on the website will be timely updated. There is a big demand for the English version of the website. As a rule, it will be updated in parallel mode.
Settlement Indicators of October 2017
In October 2017, the quantity of Balancing Electricity, purchased (sold) through ESCO was 254 273 249 kWh, which represents 26% of total delivery to the grid in mentioned month. The cost of Balancing Electricity have made up GEL 35 009 027.5.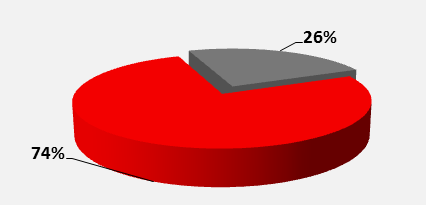 ♦ - Sold through the direct contracts
♦ - Balancing electricity
In October, the Weighted Average Price of Balancing Electricity per kWh made up 13.7682700 Tetri, while the price of balancing electricity of the deregulated hydro power plants was 9.4 Tetri/kWh
More