GEL Official Rate
12.12.2019→13.12.2019 Change
WELCOME TO THE NEW WEBSITE OF ESCO
The website of the Electricity Market Operator, in terms of its technical features and content is the best possible product in this field. Simple design, easy access through the links and quite informative news blocks will help you find the required info swiftly and effortlessly. Having historic database on the website is a good way to view and analyze the statistics. Operative data of current reporting period, regardless its forecasting nature, helps the interested individuals in planning their activities. The electricity export/import/transit news blocks are interesting and informative. The process of updating data on our website is very efficient. In parallel mode, the English version is also updated.
Settlement Indicators of October 2019
In October 2019, the quantity of balancing electricity, purchased (sold) through ESCO was 303 279 672.0 kWh, which represents 31% of total delivery to the grid in mentioned month. The cost of balancing electricity have made up GEL 44 545 355.5.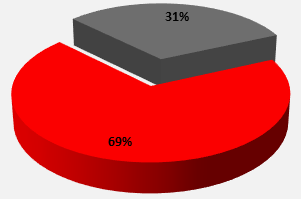 ♦ - The electricity sold through the direct contracts
♦ - Balancing electricity
In October, the Weighted Average Price of balancing electricity per kWh made up 14.6878804 Tetri, while the price of balancing electricity of the deregulated hydro power plants was 10.614 Tetri.
More